☰
Othello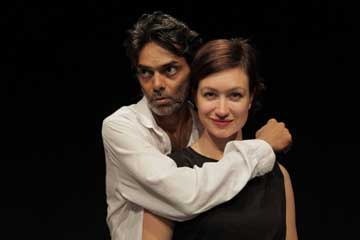 English Theater
Gallus International
»Othello«
by William Shakespeare
Dienstag, 24.11.15 19:00 Eur 16/11/9
Mittwoch, 25.11.15 10:30 Eur 9/9
Donnerstag, 26.11.15 10:30 Eur 9/9
Donnerstag, 26.11.15 19:00 Eur 16/11/9
in englisch, ab Sek. II, alle Vorstellungen nur mit Voranmeldung: Dauer 150 Min.

The writing and first production of »The Tragedy of Othello, the Moor of Venice« is placed around 1604. Four hundred and ten years later, the play has lost neither vitality nor relevance. The issues of jealousy and betrayal in relationships; and of racism, fear of the outsider, integration and economic imperialism in the socio-political sphere that the play addresses are burning contemporary problems that we in Europe are today struggling with. Shakespeare's genius transcends his time and place to resonate with pulsing urgency in our world. His universality enables us to transpose the original setting to a more contemporary and recognisable world without losing any of the play's original meaning. By situating the performance in our times, and using techniques of narrative that combine diverse playing styles and genres, we believe that we can make Shakespeare accessible to a new generation of audiences, and augment their appreciation of the depth, humour and profound psychological and spiritual insights of the greatest playwright that we know. The performance is pared down to two hours of playing time. Kenneth Philip George directs Othello using video, music, physical theatre, slapstick and classical modes of acting, to create a fast-paced drama of love, betrayal, jealousy and murder.
Kenneth Philip George, Schauspieler und Regisseur aus Berlin, hat für uns Shakespeares »Othello« in der Originalsprache, leicht gekürzt, mit 6 professionellen Schauspielern in 13 Rollen inszeniert. In einer minimalen Bühnenausstattung mit zeitgenössischen Kostümen und Musikeinspielungen, sowie dem Einsatz von Videoprojektionen wird das Stück vor allem durch das energiegeladene ausdrucksstarke Spiel der Darsteller, dem Wechsel von Komik und Tragik und einer geradlinigen Erzählweise, die das Publikum direkt anspricht, lebendig. Das Stück richtet sich sowohl an Schulklassen als auch ein breites Publikum.
Cast: Kenneth Philip George (Othello), Dorothee Krüger (Desdemona, Bianca, Senator), Codrin Serbanescu (Cassio, Duke), Stefan Kurt Reiter (Jago), Florian Wilke (Brabantio, Montano, Herald, Ludovico), Isabella Jeschke (Emilia, Rodorigo, Senator)
Dramaturgy, Design, Direction: Kenneth Philip George
Fotos: Carolin Hock - Foto oben, Tarkan Gürsoy Fotos unten
Illustrationen: Florian Wolf