☰
The Brain Piece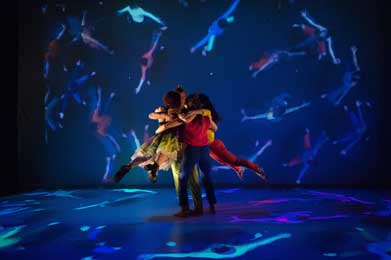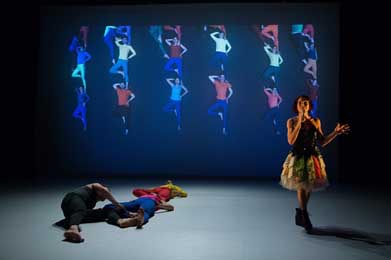 Deutsche Erstaufführung
Jody Oberfelder Projects
»The Brain Piece«
Dance-Performance
Freitag, 7.10.16 20.00 Eur 20/14
Samstag, 8.10.16 20.00 Eur 20/14
Dauer:ca. 80 Minuten

In diesem Herbst haben wir eine Künstlerin eingeladen, die einen fulminanten Tanzauftakt in unserem ersten verantworteten Monatsprogramm setzte: Jody Oberfelder-Riehm aus New York. Damals sorgte sie für Aufsehen mit ihrer Solo-Tanzperformance 'Cut it short' (18.9.86) Nun kommt sie mit ihrer Gruppe wieder und stellt ihr Stück »The Brain Piece« erstmals in Deutschland vor:
The Brain Piece is a choreographed experience, a union of movement, film, neuroscience and sound, giving audiences an interactive and intuitive opportunity to engage with their minds in motion.
The Brain Piece, directed, written and choreographed by Jody Oberfelder, illumuminates the "dance" that continuously takes place in each of our heads. The dance, music, film and text create overlapping perceptual domains, enlivening the inner life of the brain. Oberfelder wants the audience to experience dance as a language that goes directly into the brain, like smell. Oberfelder creates an environment for the audience to go inside the dome of their skull and 'see' their brains thinking, imagine neurons firing. There's humor in this mind-watching, as well as a slight melancholy that we cannot really pin down scientifically everything that makes us human. The dancers are the moving mind, and embody the connections between internal and external.
Jody Oberfelder collaborated and consulted with numerous neuroscientists. Not only is this a live performance, but »The Brain Piece« also includes much film content including the award winning »Dance of the Neurons«, co-directed by Jody and Eric Siegel; 24 dancers embody through movement metaphors: the birth of neurons, cell family formation, synapses, and neural pathways. Oberfelder consulted with Ed Lein from the Allen Institute for Brain Research, and Gary Marcus to evolve vocabulary.
»Jody Oberfelder's choreography is simply one of the finest - and certainly one of the most unusual things I've ever seen on stage...What a showstopper!« (Liz Smith, The New York Post), » It might be the most surprising and innovative thing you've seen all year.« (Theater is Easy--Jane Sato)
Conceived, written and directed by: Jody Oberfelder
Film co-director: Eric Siegel
Dancers: Mary Madsen, Pierre Guilbault, Hannah Wendel
Head docent: Jody Oberfelder
Dramaturg: Jessica Applebaum
Lighting designer: Kate Bashore
Composers: Angélica Négron, Daniel Wohl, Missy Mazolli, Sound designer: Sean Hagerty
Stage manager: Anna McDunn
Neuroscientist consultant: Dr. Weiji Ma
Fotos: Christopher Duggan